From LAb-to-market: INCeNSE PROVIDES the best launchpad
With the birth of every great idea is also born the challenge of translating that idea into a market ready product. Access to deep resources, ace acceleration programs and an innovative community of experts is at the heart of any successful transformation.
Funded by the Govt of Karnataka and birthed and housed at the Centre of Nanoscience and Engineering, INCeNSE provides the best incubation for startups in nanotechnology and deep science.
Access to state-of-the-art labs and fabrication facility that are teeming with the best technologists and faculty with deep domain knowledge will ensure the journey of your nano idea catches the right business pace.
Pre incubation program recognises the brightest of ideas and helps create Proof-of-concept, without having to set up a company.
This program entitles pre incubatees to access best-in-class infrastructure, labs and mentoring support.
This program enbles smooth movement into the next level, of turning into an INCeNSE incubatee.
The incubation program is offered to deep science and nano technology start-ups. The incubatees can dip generously into an ecosystem of highly curated advisors and mentors, peer collaborators and subject experts.
The best of infrastructure (workspace, meeting rooms, labs, broadband, telephone, IP support, mentors etc.) is offered for the first twelve months. To deserving incubatees, access to CeNSE facilities is provided at special rates, even beyond the first year.
AGNIT
GALLIUM NITRIDE ELECTRONICS FOR 5G & POWER CONVERSION

Agnit Seminconductors is deep-tech startup from the Indian Institute of Science, offering Gallium Nitride (GaN) components for next-generation communication networks for 5G, and efficient power switches for electric vehicle fast charging, etc. Agnit's tean has >100 years of experience in developing GaN solutions from materials-to-devices-to-systems.

FOUNDERS: Srinivasan Raghavan, Rangarajan Muralidharan, Hareesh Chandrasekar, Digbijoy Nath, Mayank Shrivastava, Shankar Kumar Selvaraja, Madhusudan Atre

TECHNOLOGY: GALLIUM NITRIDE
DOMAIN: SEMICONDUCTOR
SUPERQ
REVOLUTIONARY HIGH TEMPERATURE
SUPERCONDUCTING TEHCNOLOGY

SuperQ, incubated within INCeNSE, is a next-generation research and product development company that aims to build and deploy commercial scale applications in superconducting device technology.

FOUNDERS: Nagendra Nagaraja, Ashwanth Krishnan
TECHNOLOGY: SUPERCONDUCTORS
DOMAIN: SEMICONDUCTOR
ICeNd
UNIVERSAL NANO FLUIDIC DEVICES

A first of its kind - disruptive device that can handle biological problems and material science problems in fluid in real-time at the single-molecule level. We call this device UNanoD – Universal Nanofluidic Devices. UNanoD will be a standard (like USB) that will be established with existing specifications for various optical microscopes, electron microscopes, and electronics to interface between one nanoscopic measurement device to another.

FOUNDERS: Siddharth Ghosh, Moumitha Ghosh, Mohan Rao, Sagar Gosalia
TECHNOLOGY: NANOFLUIDICS
DOMAIN: SEMICONDUCTOR
THERANAUTILUS
NANOTECHNOLOGY FOR ORAL HEALTH

We are a hardware company specializing in instruments for fabricating nanorobots, safe deployment of nanorobots in living systems, and mechanisms to maneuver them to their target inside the body remotely. Our system would be capable of reaching greater depths within the dentinal tissues to target bacterial colonies that are out of reach with the current state of the art tools.

FOUNDERS: Debayan Dasgupta, Ambarish Ghosh, Shanmukh Srinivas
TECHNOLOGY: NANO ROBOTS
DOMAIN: HEALTH CARE
INFAB
SMALL PRODUCTS FOR A BIG FUTURE

INFAB is a foundry service aimed at making MEMS-based devices available for everyone - "From students to a practicing engineer to research labs to start-ups to MNCs engaged in MEMS-based activities". We envision "MEMS for everyone" and motivated to benefit our users at large by providing microfabrication of MEMS and Microfluidic devices at affordable cost with quick turn-around time. The services help the users with technical supports such as design feasibility, characterization and packaging.

FOUNDERS: Sudhanshu Shekhar, Muthuraman Swaminathan
TECHNOLOGY: MEMS AND MICROFLUIDICS
DOMAIN: SEMICONDUCTOR
DENSEPOWER
Microstructural engineering of materials for power generation and Medical Oxygen separation

Densepower focuses on tailoring the microstructure to multiply the performance of the re-engineered materials for below applications:
• Non-polluting power generation using local fuels. High density
power conversion device using solid oxide membrane electrolyte by engineering triple phase boundary
• Zeolite materials for gas separation including medical oxygen concentrators

FOUNDERS: Rathindra Nath Das, Purushottam Joshi
TECHNOLOGY: NANO MATERIALS
DOMAIN: ENERGY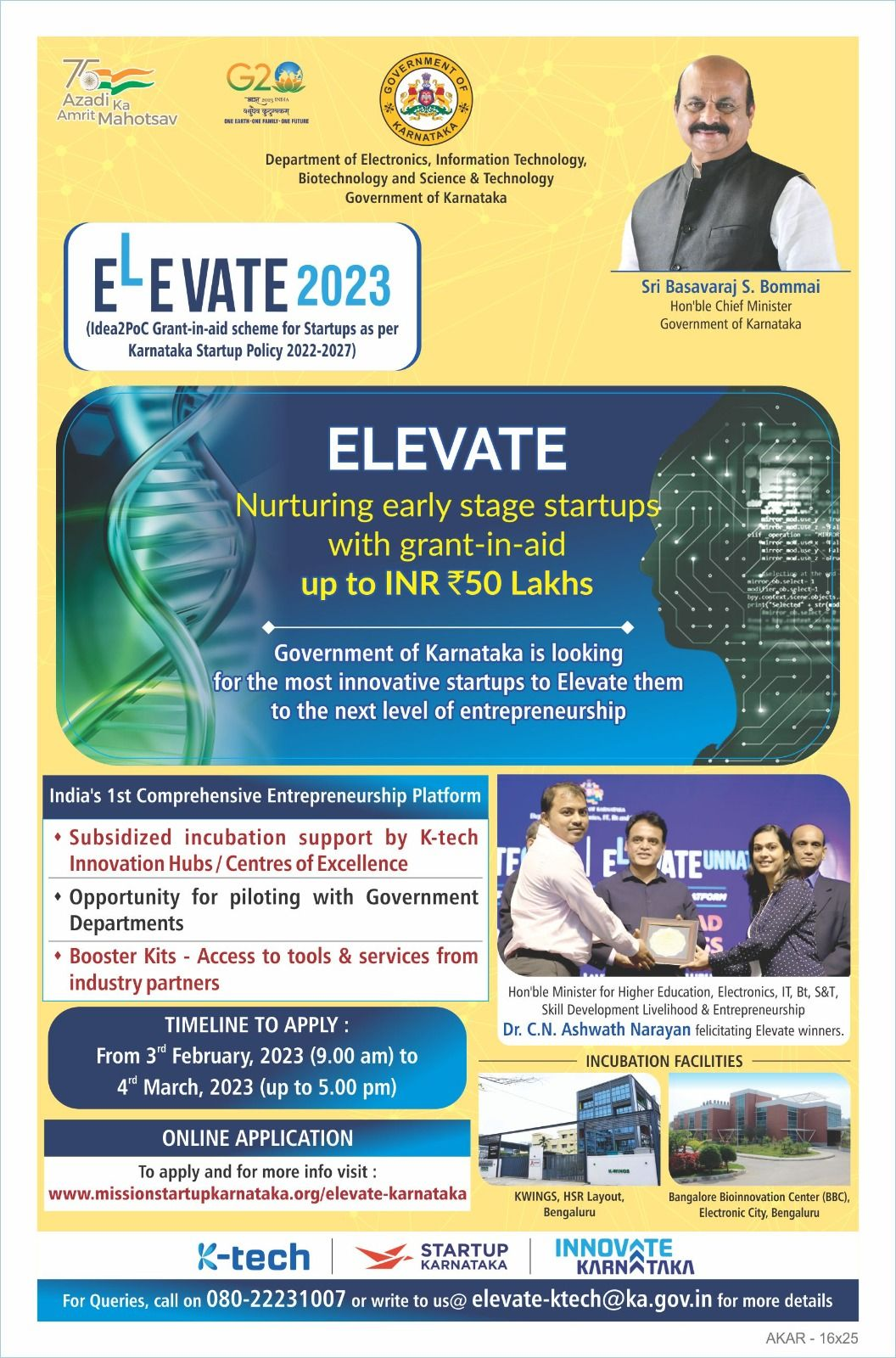 10 Feb
Startup Karnataka is delighted to announce launch of Idea2PoC/ ELEVATE 2023 (#Grant-in-aid #seedfunding upto INR50Lakhs)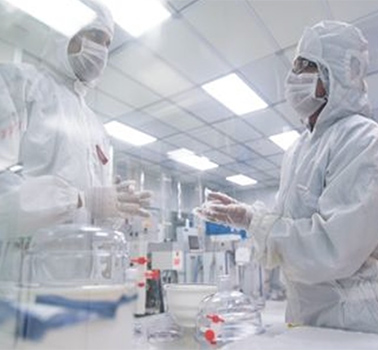 18 Jul
@INUPatIISc Hands-on Training on Nanofabrication and Characterization Techniques, supported by @GoI_MeitY , from 18 to 28 July 2022. Register here: https://lnkd.in/dRu_FYdH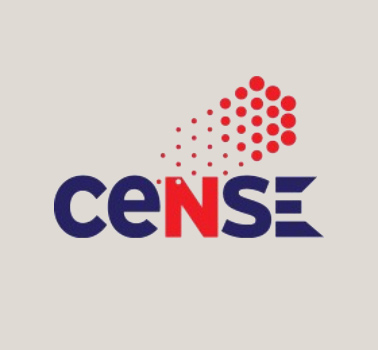 9 Aug
CeNSE is organizing the 18th International Workshop on Nanomechanical sensing from 9 to 12 August 2022. Abstracts that address theoretical and applied research issues related to N/MEMS, optomechanics, and nonlinear dynamics are welcome. The deadline for submitting abstract is May 25th, 2022.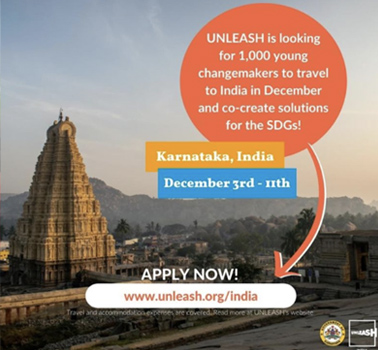 3 Dec
We are proud supporters of UNLEASH, a Global Innovation Lab for the Sustainable Development Goals who will host the next event in #karnataka (India) this December. The Lab will gather 1000 young people from all around the world, who will work together on finding solutions to specific Sustainable Development Goals.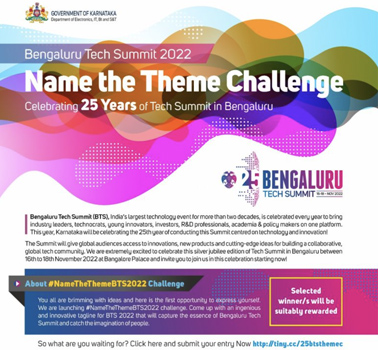 16 Nov
#BengaluruTech Summit2022 - Celebrating 25th year! 16-18 Nov'2022 @ Bengaluru Palace Participate in the #NameTheTheme BTS2022 Challenge and stand a chance to be rewarded.
13 May
IAMAI-Mobile10X and E-chai are organising Co Rise startup Networking Circle on May 13th at 6PM Speaker Details:Anish Basu Roy, TagZ Food, Ayush Pateris, Snazzy a YC Startup and Deepshikha, World We Desire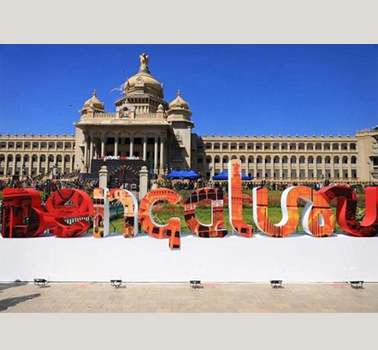 26 Jul
Bengaluru has been ranked 8th in the top 10 cities list among leading technology innovation hubs outside Silicon Valley, San Francisco, according to a KPMG's report.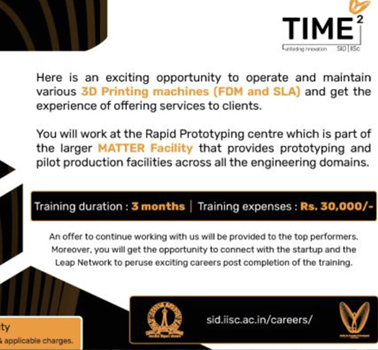 14 Jun
We are providing an excellent #opportunity to learn #3dprinting and Production machines hands-on at our #manufacturing facility to operate and maintain various #3dprinting machines and offer services to our clients. We have already set up a Rapid Prototyping facility with a few 3D printers: an #SLA and 4 #FDM printers.
14 Jun
Are you looking for an ecosystem to transform your ideas into a business? Then here is the right platform for you #ECHOSPHERE. Here you will not only get funds to convert your idea to a prototype but beyond that...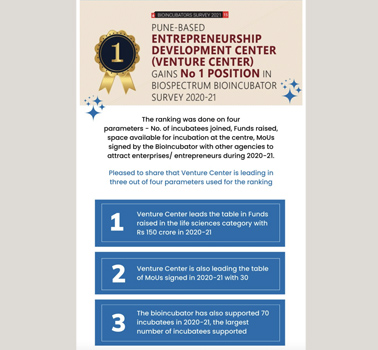 2 Jun
The results are in! We're really delighted to share that the #BIRAC supported #Bioincubator at Venture Center has ranked No. 1 (among 40 participating bioincubators) in the bioincubator survey 2021, by Biospectrum India, a leading B2B media platform in the Life sciences.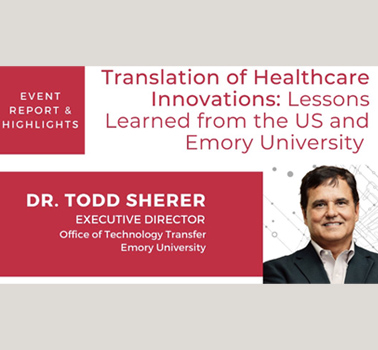 15 Jun
Are you looking for an ecosystem to transform your ideas into a business? Then here is the right platform for you #ECHOSPHERE. Here you will not only get funds to convert your idea to a prototype but beyond that...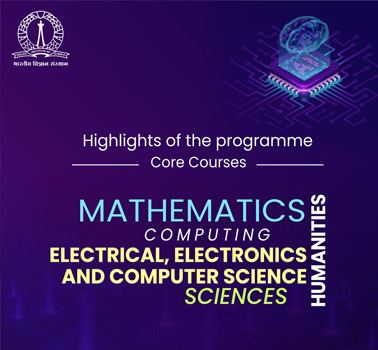 15 Jun
As part of the new BTech in #Mathematics & #Computing programme, students will get a chance to pursue core and elective courses in a range of disciplines in science and engineering.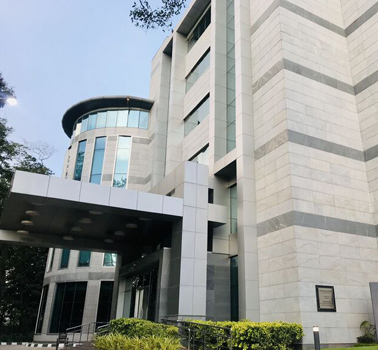 15 Jun
The Centre for Brain Research, an autonomous centre of IISc, invites applications for its PhD programme. This is an exciting opportunity to pursue interdisciplinary basic/clinical #research on #brain #aging & related disorders!
15 Jun
Looking back onto our interaction with the students from The London School of Economics and Political Science (LSE) at NSRCEL! The students were introduced to startups of NSRCEL from across sectors and learnt of the various ways in which NSRCEL and its startups impact the entrepreneurial ecosystem!
11 Jun
Embodying the spirit of #AtmanirbharBharat earlier today some of our founders had an interaction with the External Affairs Minister Dr Subrahmanyam Jaishankar
AMBARISH GHOSH
Expertise:
Magnetic nanoswimmers for nanobiotechnology and microfluidics
Electron bubbles in quantum fluids
Quantum sensing with NV-centres
Driven colloids and active matter
Plasmonics and 2D materials

DOMAIN: TECHNOLOGY
GROUP WEBPAGE: http://www.cense.iisc.ac.in/ambarish/
NAvakanta BHat
Expertise:
Nanoelectronics device physics and technology
Electrochemical Biosensors
Metal oxide gas sensors
Novel materials and processes for CMOS and MEMS applications

DOMAIN: TECHNOLOGY
GROUP WEBPAGE: NANO DEVICES AND SENSORS LAB
Shankar KUMAR SELVARAJA
Expertise:
Silicon Photonic Integrated circuit
Photonics sensors
Visible to mid-IR photonic integrated circuits
Quantum photonic integrated circuits
Micro-wave Photonics
Micro and nano fabrication technology

DOMAIN: TECHNOLOGY - PHOTONICS
GROUP WEBPAGE: http://www.cense.iisc.ac.in/shankarks/
VijayAraghavan MADAKASIRA
Expertise:
Process integration, Project management and execution
Technology and Product Development
Nodal contact person for NNfC external interface for project and technology services
Business development

DOMAIN: TECHNOLOGY OPERATIONS
Madhusudan Atre
Expertise:
Strategy and Business Planning

DOMAIN: BUSINESS
Gayathri pillai
Expertise:
Micro/Nanoelectromechanical Systems
Piezoelectricity
Resonators, Oscillators, and Filters
Piezo/Ferroelectric material exploration for M/NEMS devices
Inertial sensors
Radio Frequency MEMS
Sensors and actuators
Hybrid MEMS

DOMAIN: TECHNOLOGY - MEMS
GROUP WEBPAGE: https://sites.google.com/view/gayathripillai/home
PROSENJIT SEN
Expertise:
Interfacial Microfluidics for Lab-on-Chip & other applications
Nanostructures for Self-Cleaning and Anti-Microbial Surfaces
Using Interfaces to investigate Cells for Cytometry and Separation of CTC's
3D Heterogeneous Integration of Micro-Nano Scale Devices for System Scaling

DOMAIN: TECHNOLOGY
GROUP WEBPAGE: Microfluidic Devices & Heterogeneous Systems Lab
Srinivas raghavan
Expertise:
Growth of thin films and nanostructures
In-situ stress-defect measurement and control
Microstructure-electronic property correlations
GaN, oxides and 2-D materials

DOMAIN: TECHNOLOGY
GROUP WEBPAGE: http://www.cense.iisc.ac.in/vasugroup/
Raj Waghray
Expertise:
Entrepreneurship

DOMAIN: TECHNOLOGY AND BUSINESS
B GURUMOORTHY
Expertise:
Computor aided design
Digital manufacturing
Computational Metrology
Product design

DOMAIN: TECHNOLOGY AND BUSINESS
C S MURALI
Expertise:
Mentoring start-ups on strategy, fund raising and
business development
Venture capital portfolio management
Deal evaluation

DOMAIN: BUSINESS
C V Natraj
Expertise:
Chemistry
Bio-chemistry
Technology transfer
Technology evaluation

DOMAIN: TECHNOLOGY  AND BUSINESS
AKSHAY NAIK
Expertise:
Nonlinear dynamics in 2D nanoelectromechanical systems
Noise in nanoelectromechanical systems
Strain engineering in 2D materials

DOMAIN: TECHNOLOGY
GROUP WEBPAGE: http://www.cense.iisc.ac.in/anaik/
Supradeepa VR
Expertise:
High Power Fiber Lasers
Nonlinear Optical Frequency Conversion
Integrated Photonics
Optical Frequency Combs and Metrology
High Bandwidth Optical Communications

DOMAIN: TECHNOLOGY
GROUP WEBPAGE: http://www.cense.iisc.ac.in/supradeepagroup
Savitha P
Expertise:
Technology and Operations
Safety in semiconductor research laboratories
User management

DOMAIN: TECHNOLOGY OPERATIONS
Saurabh Chandorkar
Expertise:
Energy loss mechanisms in micro/nano scaled resonators
Wafer scale packaging for MEMS
Human-computer modality enhancements
Low cost system development for IC fabrication and characterization

DOMAIN: TECHNOLOGY
Rudra Pratap
Expertise:
Inertial, acoustic and ultrasonic MEMS transducers
Piezo-MEMS and energy harvesting
Mechanobiology of micro and nanoscale natural (insect) transducers
Nanoscale patterning and material transport using electromigration

DOMAIN: TECHNOLOGY
GROUP WEBPAGE: http://www.cense.iisc.ac.in/rp/
Digbijoy Nath
Expertise:
Wide band gap materials and devices, including Gallium nitride based transistors for power switching and RF applications
Deep-UV photodetectors based on III-nitrides, gallium oxide and their heterojunctions
2D layered materials for memristive and synaptic devices

DOMAIN: TECHNOLOGY
GROUP WEBPAGE: http://digbijoynath.in
Muralidharan R
Expertise:
III-Nitrides
High power RF devices
Gallium oxide based devices

DOMAIN: TECHNOLOGY
SURESHA S J
Expertise:
Material characterization technniques: Thin films, coatings, electron microscopy
Advanced electron microscopy in Micro-nano systems

DOMAIN: MATERIAL CHARACTERISATION, LAB OPERATIONS
GROUP WEBPAGE: https://www.linkedin.com/in/suresha-s-j-b5330b18
SUSHOBHAN AVASTHI
Expertise:
High-efficiency perovskite thin-film solar cells
Integration of semiconducting oxides to silicon, forming oxide/silicon heterojunction devices
Functional oxide devices for applications such as photovoltaics, sensing, and memory
Integration of solar cell on novel substrates such as steel

DOMAIN: TECHNOLOGY
GROUP WEBPAGE: HETEROJUNCTION LAB
Sreetosh Goswami
Expertise:
Neuromorphic hardware for AI and ML
Nanoelectronics and photonics
Edge computing
Brain-inspired molecular electronics
Organic optoelectronics for memory, logic
Non-linearity and chaos for realizing cognition

DOMAIN: TECHNOLOGY
PAVAN NUKALA
Expertise:
Correlated systems
Ferroic oxides
in situ electron microscopy and spectroscopy
Material networks for neuromorphic computing
Phase-change materials
Thin-film x-ray diffraction

DOMAIN: TECHNOLOGY
GROUP WEBPAGE: http://www.cense.iisc.ac.in/pnukala/